Elevator Speech
My formal education has given me the knowledge and presence of mind to think clearly and reliably on a variety of subjects.
My professional experiences have given me the real-world practicality to solve even the most pressing of problems.
My leadership experiences have given me the strength and character to mobilize my teammates towards a productive goal.
My Athletic background has supplied me with the confidence and competitive drive needed to be successful in today's market.
My name is Isaac Rothenbaum, there is a lot I have to offer your business. Here is my card...
FRONT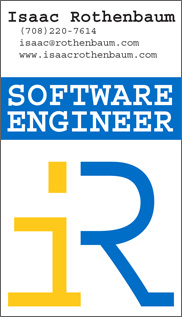 BACK